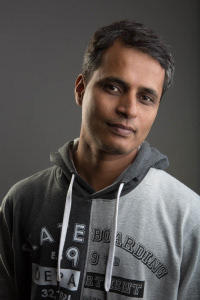 Grown up amidst the notorious gang war hub of Mumbai, I was fascinated by sharpshooters back then and always wanted to be one. Today, I call myself a sharpshooter and I shoot people but thanks to mankind, I chose a camera as my weapon instead of a gun.
After shooting as a hobbyist photographer and spending 10+ years as a project damager, (oops manager) for Infosys, I decided to take photography more seriously. A high paying job couldn't stop me from following my dream. I started shooting weddings and discovered my liking towards shooting people (maybe it was already there from my childhood ;) ). I formed
Scarlet Weddings
with two of my friends Glax and Chinmoy. Scarlet Weddings gave me the opportunity to enjoy freezing the loving moments, waves of laughter and oceans of emotions at the weddings for the past few years. Doing maternity and baby photography also gives me a tremendous joy. 
I like to travel as I believe, that all those who wander (like me) are not lost. Thanks to my IT job, I have traveled to many parts of the globe. When I am not shooting, you will mostly find me on my bike going on a long ride (and shooting) OR spending time with my wife & son (and shooting their pics) OR sipping a cup of tea in front of my computer (and not shooting). Yes, tea is my poison :) I can drink tea and go to bed. I was an avid cricket fan but I took retirement from watching cricket along with Tendulkar. 
Currently based in Pune, I am available for assignments all over the globe. Thank you for tolerating me this far :) If you like my portfolio and want to hire me or have any question, please do not hesitate to contact me using the contact form.